Dr. Katie Monnin
Stan Lee was the most famous American comic book creator who ever lived.

Thanks, especially, to his many cameos in Marvel movies and TV shows, Lee was—and even after his 2018 death, still is—the voice and face of comics and popular culture in general, and Marvel Comics in particular. How he got to that place is a story that has never been fully told—until now.
With creative partners including Jack Kirby and Steve Ditko—with whom he had tempestuous relationships that rivaled any superhero battle—Lee created world-famous characters including Spider-Man, Iron Man, the X–Men, the Avengers, and the Hulk!

But Lee's career was haunted by conflict and controversy. Was he the most innovative creator to ever do comics? Was he a lucky no-talent whose only skill was taking credit for others' work? Or was he something else altogether?

Danny Fingeroth's A Marvelous Life: The Amazing Story of Stan Lee attempts to answer some of those questions. It is the first comprehensive biography of this powerhouse of ideas who, with his invention of Marvel Comics, changed the world's ideas of what a hero is and how a story should be told.
DANNY FINGEROTH was an award-winning writer and editor at Marvel Comics. A highly-regarded pop culture critic and historian, he is the author of acclaimed books including Superman on the Couch: What Superheroes Really Tell Us About Ourselves and Our Society and co-editor of The Stan Lee Universe, an annotated collection of rarities from Lee's personal archives. Fingeroth worked with Lee on numerous projects and conducted original, in-depth interviews with him (and many others) in the course of researching A Marvelous Life. Fingeroth has spoken and taught on comics-related topics at Columbia University, the Smithsonian Institution, and at Milan's Mimaster Institute, among many other venues.
Read Dr. Katie Monnin's interview with Danny Fingeroth below!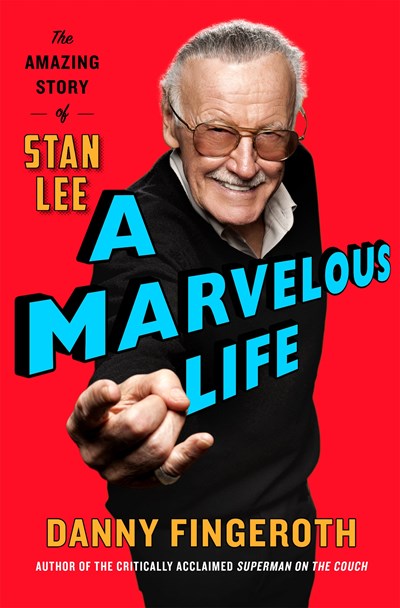 ---
KM: A Marvelous Life is the most comprehensive, in depth, definitive, and engaging biography on Stan Lee. It answers so many pressing questions I had about Lee that I now feel a little bit closer to the man. And although I was not fortunate enough to meet or work for Stan during his lifetime, he and his Marvel creations are some of the greatest loves of my life.
Like all fans of Stan Lee, I begin by wondering why and when you decided to write A Marvelous Life?
DF: Like any author, I had to balance what I'm passionate about with what there might be a reasonably large audience for. Given my fierce interest in the first generation of comic book pioneers, including Will Eisner and many others, as well as my own longterm personal and professional involvement with Marvel, it made sense to me to write about Stan, as someone both typical of his generation, and yet unique among all comics creators for what he accomplished.
KM: At the beginning of A Marvelous Life you mention working at Marvel Comics for eighteen years. What was it like to work for Stan Lee? What are two of your most memorable moments with him?
DF: I suppose the first time I ever worked as his editor was sort of surreal. He was the scripter of the 1984 Amazing Spider-Man annual, which I edited. And it was my job to tell him when something in the script wasn't quite (in my subjective opinion) working. He was great to work with. He complimented me if he thought my suggestions were good, and stated his case when he disagreed, always willing to defer to my "authority." Really, he could have just said, "Shut up and sign the voucher," and I would have. But he didn't.
Years later, when I was working for Wizard World conventions, inventing and moderating panels and events, Stan stopped a panel in the middle and told the audience how wonderful I was and how terrible it was that Marvel had "let me get away." I think he did something similar with many people with whom he shared daises, but that didn't make it any less special.
KM: In the late 1940s, Lee felt he had to address the negative, growing stereotypes that were swirling around comic books. One of the most memorable moments in the book comes when Lee compares comic books to literature in 1949, five years before Fredric Wertham published Seduction of the Innocent:
"Just as there are good and bad people, good and bad radio programs, good and bad movies, so there is good and bad literature . . . comics, with their many pictures, are just one type of literature" (p. 53).
Is Lee one the first (or the first) to refer to comics publicly as a type of literature by 1949? Did he refer to comics as literature often?
DF: Wertham and others had been attacking comics well before the publication of Seduction of the Innocent, so Lee was responding (in the above quote from a Timely—precursor to Marvel—editorial) to an ongoing assault on the medium. I do think Stan was an early believer in comics' potential to be more than throwaway entertainment for children, although I don't know if he's on record as saying it anywhere before 1949.
He wrote, and sometimes drew, numerous comics-format educational and instructional works when he was in the army. And he was always pitching ideas for syndicated newspaper strips, which were for various reasons considered to be of higher cultural value than comic books. A few of his ideas got picked up and he wrote a number of syndicated strips, although none were runaway hits.
As early as 1941, comics pioneer Will Eisner is quoted in a interview in the Philadelphia Record referring to comics as literature. And there were pioneering graphic novelists such as Lynd Ward who clearly felt that comics had potential as literature.
KM: In Chapter 2 ("The Dress Cutter's Son"), you quote Stan Lee's reflections on his father. Lee stated that his father "was not a good business man, and he was not lucky. Most of the time I knew him, he just wasn't working. He couldn't find a job. He would be sitting home reading the want ads. I felt so sorry for him" (p. 15). Do you think his father's unlucky job searches influenced Lee in his early years and into his Marvel Comics years?
DF: I think seeing his father's employment and financial problems informed every single thing Stan Lee did in his life, in and out of comics. He was determined that that would not be his fate.
KM: What was the most challenging aspect of writing A Marvelous Life? What was the most fun?
DF: The most challenging aspect was trying to make my way through the various beliefs and assumptions, both positive and negative, about Stan. At this point in history, the people who created the comics characters we all know are almost as mythic as the characters themselves.
That aspect was also the most fun. Trying to find some kernel of truth or accuracy in the many tangled tales involving Stan's life was exciting to do.
KM: When Lee was approached in 1975 to produce a Star Wars comic he at first said no, believing correctly from his decades of experience that science fiction comics wouldn't sell. But George Lucas and his team were persistent with Marvel and explained how Star Wars was more than just science fiction; it was similar to a Marvel Comic that embraced deep characterization, emotion, and humor within its stories. Plus, Lucas planned to give the comics rights to Marvel for free! How important was Star Wars to Lee and to Marvel?
DF: Star Wars, it's generally believed, pretty much saved Marvel at a time when the entire comics industry was suffering, largely due to traditional retail channels drying up and the direct market not yet existing to a significant degree. It's to Stan's credit that when a trusted colleague—Roy Thomas—asked him to give Star Wars another chance, that he agreed to do so, and published it mostly based on Roy's enthusiasm. (And, while I'm sure the movie would have done fine, having the first couple of issues of Marvel's Star Wars adaptation come out before the film opened could only have helped establish it as something significant.)
KM: Chapter 23 is entitled "Legacy." First, what do you think Lee's legacy is right now in the year 2019? Second, and one hundred years from now, what do you hope Lee's legacy will be?
DF: One legacy: Stan and his co-creators profoundly changed the way we look at the entire action-adventure genre. They incorporated elements of more "serious" fiction into superhero comics, which had generally been seen as simplistic entertainment for children, and enabled them to address more complex topics and appeal to more sophisticated audiences. We take it for granted now that superheroes have complicated emotional and psychological lives, and that not every story in the genre is about clearly defined good guys and bad guys, with no grey areas. But Stan and company made that kind of nuance possible.
Also, Lee's use of Marvel to create a community based on the love of a certain type of entertainment—including attachment to the characters and to their creators— is a major legacy that we see echoes of in pretty much every fan community today. Stan didn't invent the idea of fans, of course, but he understood what would resonate with them, how to appeal to them, and how to grow the fanbase from a small group to an enormous one.
A hundred years from now? I think Lee's idea that it's okay—even necessary—to experiment with genre formulas in order to reflect and affect the times will still be powerful in a century. He gave the green light to veer from the expected and try something new.
---
Dr. Katie Monnin is the author of eight books about teaching pop culture, comic books, and graphic novels in 21st century classrooms. Since 2010 she has written two monthly reviews and two corresponding lesson plans for her Diamond Bookshelf column: "Katie's Korner: Graphic Novel Reviews for Schools & Libraries." In 2018, Dr. Monnin founded "Why so serious? Productions," a consulting business that creates pedagogical materials for 21st century teachers, librarians, and publishers who want to teach pop culture. She served on the San Diego Comic Con jury in 2013, and she frequently travels the nation and the world to discuss teaching with pop culture in 21st century classrooms.