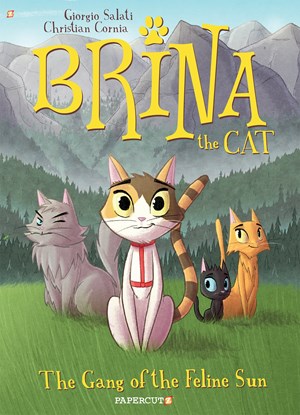 Industry leading kid graphic novel publisher, Papercutz introduces a new lovable comic book cat when BRINA THE CAT Volume 1 hits stores in January 2020!
BRINA THE CAT is brought to furry life by writer/comics professor Giorgio Salati and illustrator/comics professor Christian Cornia, with gorgeous hand painted cat illustrations by Cornia and a heartfelt story by Salati.

Brina and her young owners move away from their cushy lives in the city to spend their summer in the country. There Brina meets a gang of country cats who introduce her to the wilder side of life and the freedom that comes with it. But seeing how distraught her owners are at finding she's disappeared, Brina must make a decision: live out a life of freedom and all the bugs she can eat in the country, or come back to her loving owners and live back in the city.

Equal parts feline funny book and emotional reflection of what our pets mean to us, BRINA THE CAT will be sure to warm the hearts of any cat lover. BRINA THE CAT and our other feline releases CAT & CAT and CHLOE & CARTOON (a spin off of our successful CHLOE series) will officially annoint Early 2020 as Papercutz's Season of the Cat!

Papercutz will release Brina The Cat#1 in full color hardcover (6.5 x 9, 88pp., ISBN: 9781545804254, $14.99) and full color paperback (6.5 x 9, 88pp., ISBN: 9781545804261, $9.99) on January 14th 2020.
---
ABOUT PAPERCUTZ: Papercutz is dedicated to publishing great graphic novels for all ages. Popular with reluctant readers and gifted readers alike, Papercutz graphic novels for kids, tweens, and teens include a wide range of genres, including humor, action adventure, mystery, horror, and favorite characters. We work every day to introduce young readers to the imaginative wonders waiting to be discovered in comics. To find out more visit http://www.papercutz.com.