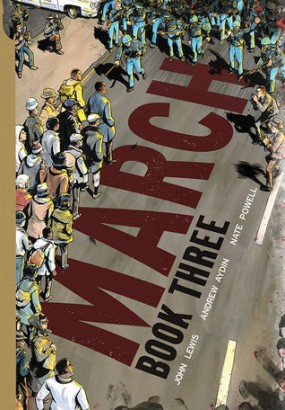 March Book 3
Publisher: Top Shelf Productions
Written by: Congressman John Lewis and Andrew Aydin
Illustrated by: Nate Powell
Format: Softcover, 6 x 9, 256 pages, $19.99
ISBN: 9781603094023
Review
Congressman John Lewis is most likely labeled as a politician. He represents Georgia in the House of Representatives. He's often on the news weighing in on current political events. But how did he reach the heights of our nation's governance? What's his story?
If we rewind from Congressman Lewis' current life in Congress to his earlier years during the 1960s Civil Right Movement in Alabama we will find some more-than-interesting stories. Well, not stories in a fictional sense. Nonfiction stories. True stories. Lewis was a key leader in the Civil Rights Movement, often working alongside Dr. Martin Luther King Jr. and Malcolm X. Lewis is an activist, a legendary leader who fought with his life on the line for the rights of all men and women.
Already raking in the awards this past year, March 3 is the third installment in Lewis' March graphic novel series. Accompanied by Aydin and Powell the rhetoric and the visuals of this true story represent the American spirit of bravery, courage, and humanity for all during one of the most critical humanitarian moments in our nation's history, the Civil Rights Movement.
Language Arts Elements of Story
Plot: Experience one of the 1960s most pivotal Civil Rights Movements, a march from Selma to Montgomery, Alabama. Written by Congressman John Lewis this historical march is now available in graphic novel format for middle and high school readers.
Major Characters: girls in the bathroom, preacher, Denise, John Lewis, Julian Bond, Diane Nash, Dr. Martin Luther King Jr., James Bevel, Governor Wallace, Bernard Lafayette, Jim Clark, Bull Connor, Al Lingo, Robert McNamara, James Baldwin, Registrar of Voters, Major Joe Smelley, Jim Forman, Amelia Boynton, Avery Williams, Chico Neblett, Bob Moses, Al Lowenstein, Fannie Lou Hamer, Medgar Evers, President John F. Kennedy, President Lyndon Baines Johnson, Dobbs Corporation, Harold Cox; Governor Johnson, Mayor Allen Thompson, James Chaney, Andy Goodman, Mickey Schwerner, Cecil Price, Robert Kennedy, J. Edgar Hoover, James Hare, Roy Wilkins, Shirley MacLaine, FBI Deputy Director Deloach, Joe Rauh, Ella Baker, Governor Nelson Rockefeller, Ku Klux Klan, Barry Goldwater, Hubert Humphrey, Don Harris, Malcolm X, Mary King, Casey Hayden, Joe Smitherman, Wilson Baker, Jim Clark, Hosea Williams, Reverend F.D. Reese, Margaret Moore, Annie Lee Cooper, Robert Woodruff, C.T. Vivian, Jimmie Lee Jackson, President Barrack Obama, John Doar, Mrs. Rosa Parks
Major Settings: 1963-5, 2009; 16th Street Baptist Church; Birmingham, Alabama; Selma, Alabama; Dallas County; Dallas County Courthouse; Selma Prison Farm; Mississippi; Nashville, TN; Atlanta, GA; Toddle House; Washington DC; Atlantic City, NJ; Neshoba County, MS; Daly City, CA; Congress; Dakar, Senegal; Guinea; Liberia; Ghana; Ethiopia; Kenya; Africa; Cairo; Brown Chapel Ame; Albert Hotel; Marion, AL; hospital; New York City, NY: march from Selma to Montgomery
Themes: Civil Rights, Social Justice, Peace and Violence, Protest, Past-Present-Future
Lesson Plan Recommendations Using the Common Core Standards for Middle and/or High School Readers
Key Ideas and Details:
Cite strong and thorough textual evidence to support analysis of what the text says explicitly as well as inferences drawn from the text, including determining where the text leaves matters uncertain.
* The number(s) referenced above corresponds to the number used by the Common Core Standards (www.commoncore.org)
* A Common Core Standard for High School is used because March 3 is appropriate for both high school and middle school (both of which are covered in the standard above).
Lesson Idea for Middle and/or High School Readers
Directions: One of the most rewarding experiences while reading March 3 is paying attention to the dates, locations, and growingly-heated-events regarding Lewis' experiences and involvements during the civil rights movement.
For that reason, students would benefit from creating a timeline while reading. As they read, ask students to write above the timeline, noting every single specific date that Lewis includes in the text and a brief description. Below the timeline students can further elaborate on that same event by providing supporting visuals for each event listed above the timeline; in other words, above the timeline will be a date and explanation and below the timeline will be a visual representation of that same event.
Students may need larger paper than standard 8.5" x 11" to draw a longer and continuous timeline to represent Lewis' story.
********************
Dr. Katie Monnin is an Associate Professor of Literacy at the University of North Florida. Besides the joy that comes with reading comic books and graphic novels, Dr. Monnin enjoys a Peter Pan-ish life of researching and writing her own books about teaching comics, graphic novels, and cartoons: Teaching Graphic Novels (2010), Teaching Early Reader Comics and Graphic Novels (2011), Using Content-Area Graphic Texts for Learning (2012), Teaching Reading Comprehension with Graphic Texts (2013), and Get Animated! Teaching 21st Century Early Reader and Young Adult Cartoons in Language Arts (2014); Teaching New Literacies in Elementary Language Arts (2015). When she is not writing (or sitting around wondering how she ended up making an awesome career out of studying comics and graphic novels), Dr. Monnin spends her time with her three wiener dogs, Samantha, Max, and Alex Morgan Monnin.