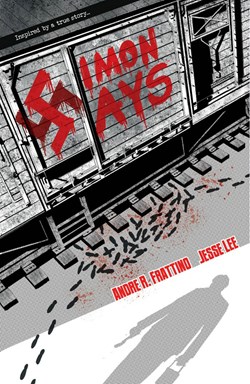 Simon Says: Nazi Hunter Volume 1
Published by: Image Comics
Written by: Andre R Frattino
Illustrated by: Jesse Lee
ISBN: 9781534313194
Ages: 16+
Review
"The only way to get close is to look weak."
Based on the true story of Holocaust survivor Simon Wiesenthal, who literally lost everything to the Nazis, Simon Says is a riveting tale about how an every day man became a Nazi propaganda artist and then a Nazi hunter.
Right in front of his yes, Wiesenthal's family was killed by a Nazi soldier he would neither forgive nor forget. At that very moment, Simon Wiesenthal became an under cover Nazi hunter. In order to stay alive, however, Wiesenthal agreed to paint swastikas on trains for the Nazis. And then he waited.
When World War II was over for everyone else, Wiesenthal learned that he and his wife had lost over eighty members of their family. The war was not over for Wiesenthal. Wiesenthal had a great memory and a keen eye for portrait painting. He had seen enough. He knew enough.
Feeling as though the top ranking Nazi Officers had escaped without facing the consequences of their actions at the end of the war, Wiesenthal teamed up with American officers to run an under cover investigation into where these high-ranking Nazis were hiding. For instance, he was a part of the mission to find and apprehend Adolf Eichmann (the major voice and author of Hitler's "Final Solution to the Jew Question") and "The Angel of Death," Joseph Mengele (the man who conducted horrifying experiments on the Jewish people).
With his old and loyal friend Bruno at his side, Wiesenthal's plans to hunt high-ranking Nazi officers was more than just a new profession he inherited as a result of the war. It was personal. Very personal.
Language Arts Elements of Story
Plot: Simon Wiesenthal lost over eighty members of his family during the Holocaust. At the end of the war he became a Nazi hunter, searching for the most high ranking and unforgettable faces he had seen during World War II.
Major Characters: Simon, Orlin Muller, Tony, Anton Becker, Hitler, Boychik, Issner, Eichmann, Lieutenant Chris Neiberger, Kommandofuher Strauss, Blockfuhrer Phol, Weber, Bruno, Arthur, Mister Miller, Major Bryant, Sigfreid, Himmler, Polizeichef Direktor, Goebbles, Balimann, Sarah, Heir Graf, Erhardt Rohr, Angela, Mr. Smith, Frau Rohr, Police Commissioner Rohr
Major Settings: Berlin (1946), Wolfskopf Haus, Cafe Haus, U.S. Military Intelligence Office, Nuremberg, Dachau, Auschwitz, Janowska, Chris, Officer Number Two, Pharmacy, Anhalter Bahnof, Erhardt Rohr's Home
Themes: Politics and Religion, World War II, Holocaust, Revenge, Innocence and Guilt, Memories and Flashbacks, Social Justice
Lesson Plan Recommendations Using the Common Core Standards
Engage and orient the reader by establishing a context and point of view and introducing a narrator and/or characters; organize an event sequence that unfolds naturally and logically.
*The number(s) referenced above corresponds to the number used by the Common Core Standards (www.corestandards.com)
Directions for Lesson Plan
In the first few days (or up to a week) before reading Simon Says talk to and prepare students for each of the following categories that play a significant role in the graphic novel. This information will help students better understand and comprehend Simon Wiesenthal's point of view and contextual decisions during the story:
1. World War II,
2. The national powers involved,
3. The major events that propelled the war,
4. The individuals most known for their involvement,
5. and the Holocaust.
Next, ask students to read Simon Says with different colored and small Post-It Notes; one color for marking context and another color for marking Simon's narrative point of view.
Per day, assign the page numbers for homework that best suit your students, and on each of the following days ask students to review where they placed their Post-It Notes. in small groups of 3 - 4. Next, ask each student group to share five of their most significant Post-It Notes placements, allowing other groups to take notes if needed. Engage in small group and large group discussions until done reading.
********************
Dr. Katie Monnin is the author of eight books about teaching pop culture, comic books, and graphic novels in 21st century classrooms. Since 2010 she has written two monthly reviews and two corresponding lesson plans for her Diamond Bookshelf column: "Katie's Korner: Graphic Novel Reviews for Schools & Libraries." In 2018, Dr. Monnin founded "Why so serious? Productions," a consulting business that creates pedagogical materials for 21st century teachers, librarians, and publishers who want to teach pop culture. She served on the San Diego Comic Con jury in 2013, and she frequently travels the nation and the world to discuss teaching with pop culture in 21st century classrooms.