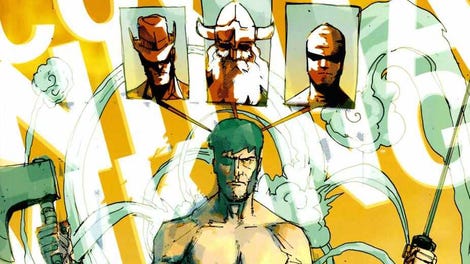 Originally created by writer A.J. Lieberman and artist Riley Rossmo, Cowboy Ninja Viking follows a counter-intelligence unit of Multiple Personality Disorder patients known as Triplets. Through experimental psychiatric conditioning and treatment, psychotropic drugs, and past life regression therapy, the patients are transformed into agents before falling apart and turning into hired killers. Now, Duncan, a Triplet who channels the skills of a Cowboy, Ninja, and Viking, must find and stop the rogue Triplets.
Cowboy Ninja Viking has been optioned to becoming a major motion picture film with CHRIS PRATT (Guardians of the Galaxy) attached to play Duncan. Comic creators A. J. Lieberman and RIley Rossmo will join the writing staff with Craig Mazin (The Hangover II and III, Identity Thief) and Zombieland writers Paul Wernick and Rhett Reeseto create the screenplay.
Now, the 2019 film has announced the newest addition to the growing crew - Michelle MacLaren has come on board to direct. MacLaren is best known for her work on big budget series like Breaking Bad, Game of Thrones, Westworld, The Leftovers and The Walking Dead.
Universal currently has Cowboy Ninja Viking scheduled for a June 28, 2019, release.
For more information the Cowboy Ninja Viking comic series, click here. To order copies, please contact your DBD Sales Representative. For a list of other graphic novel adaptations from Image Comics, visit Diamond Book's Graphic Novels Recently Optioned & In Development Catalog on Edelweiss+.